Planning to visit to Burning Springs? Explore the elements each area of the spa features that will restore, refresh and relax your mind, body, and soul.
Access to the Outdoor and Indoor Oasis Spa areas of Burning Springs Spa & Thermal Pools are available to guests with an Oasis Pass.
Oasis Pass
Enjoy access to our indoor/outdoor Oasis Spa area featuring a Himalayan Salt Sauna, indoor hot tub and lounge area. Outside you will find three Thermal Pools, Finnish Style sauna and a seating area. This pass is available to guests without a spa appointment (based on availability). Oasis pass $60
Buy Your Oasis Pass
Oasis Pass Appointment Add-On
Enhance a spa appointment with access to our indoor/outdoor Oasis Spa area featuring a Himalayan Salt Sauna, indoor hot tub and lounge area. Outside you will find three Thermal Pools, Finnish Style sauna and a seating area (based on availability). Add-on $35
Select your treatment below, and then choose the "Oasis Room Add-on" from the Add-on list when booking.
Outdoor Oasis
The outdoor oasis spa area is home not only to our Thermal Pools, but also an outdoor relaxation area and a Finnish-inspired Sauna Cabin. This space can be enjoyed year-round thanks to a heated pool deck surround.
Thermal Pools
Our three signature Thermal Pools dominate the outdoor oasis area. Offering Niagara's only hydrotherapy journey, the pools are temperature regulated to delivery the maximum benefits of a heat/cold cycle.
Finnish-Inspired Sauna Cabin
A dry heat sauna with an average temperature of 66 degrees celsius and humidity between 5-20%. Benefits of a Finnish Sauna include improved circulation, lowered blood pressure, stress relief, glowing skin, reduced joint stiffness and muscle soreness. Our Cabin features an oversized window facing our Thermal Pools and outdoor area allowing for maximum natural light and a sense of peace.
Relaxation Area
Allow yourself time to unwind in our fresh-air, fireside relaxation area. Our comfortable seating area mimics the Finnish-inspired design of our Sauna Cabin. Even just a few minutes of taking in the fresh-air and the surroundings is key if you've completed the hydrotherapy journey. This gives your body a chance to stabilize your heartrate, and embrace newfound clarity and freshness of mind. This space also features a firepit for added relaxation.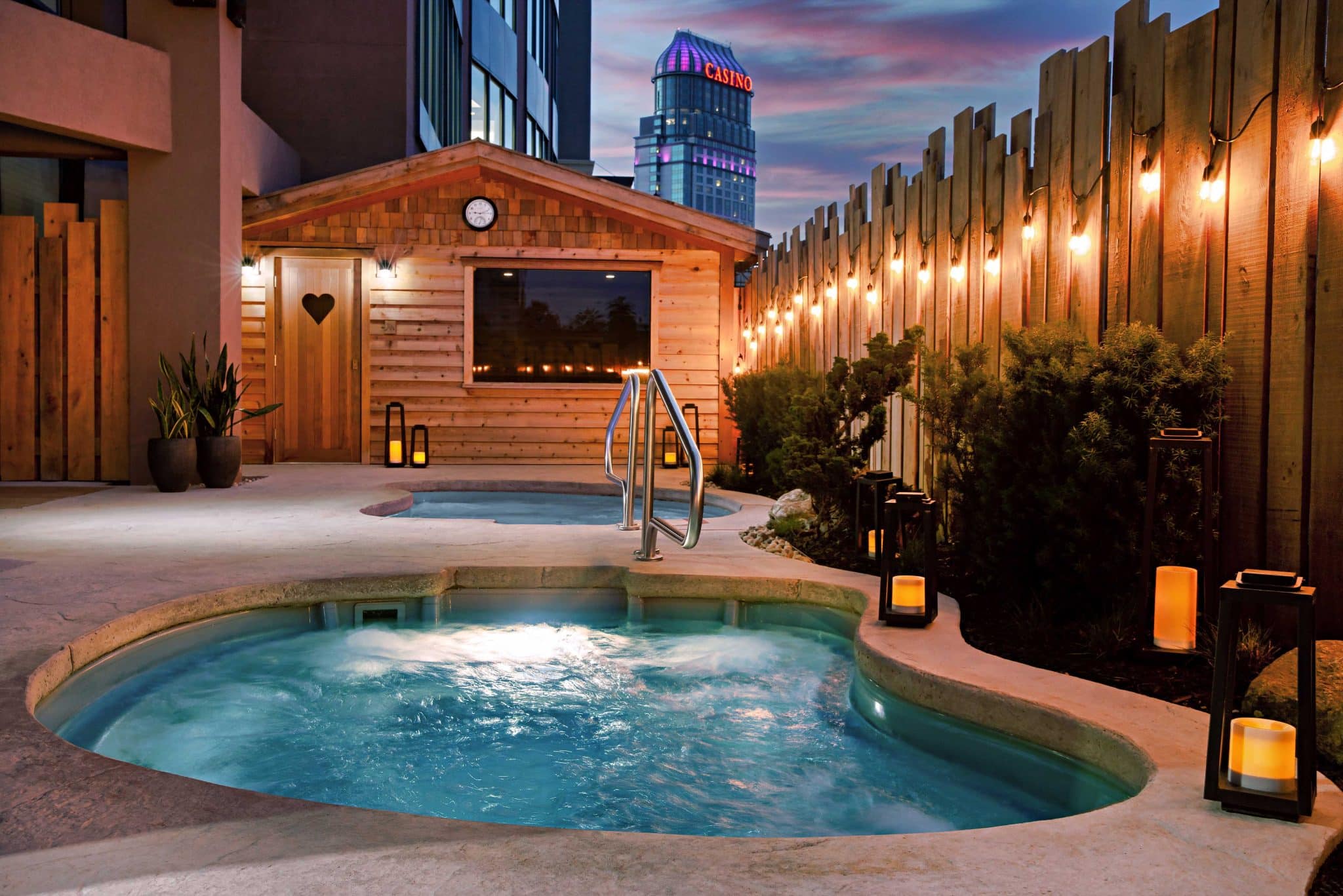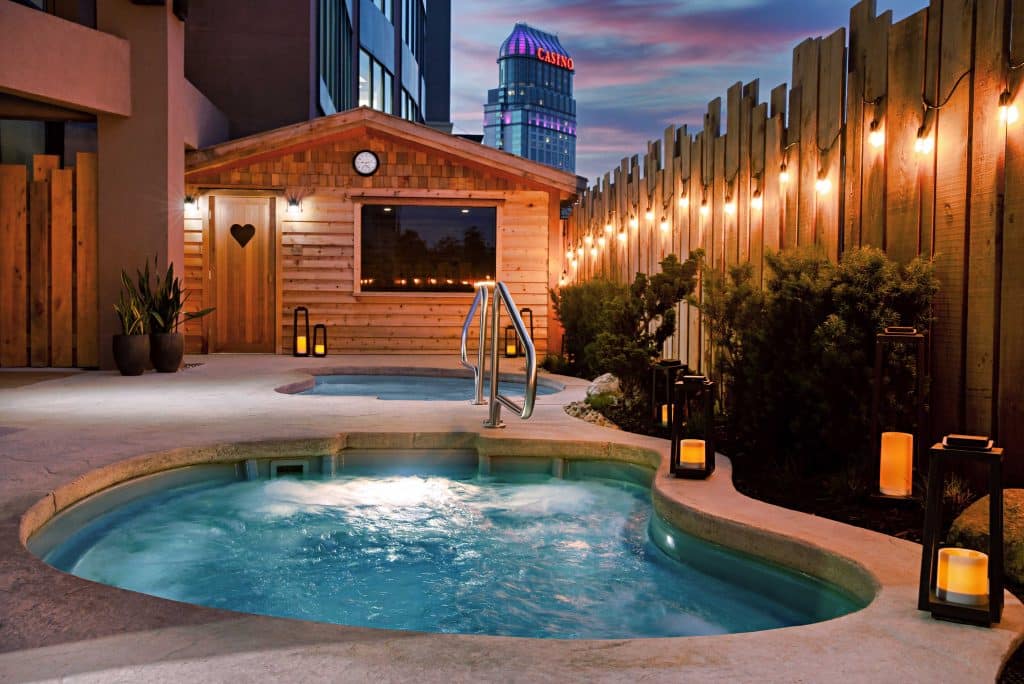 Indoor Oasis
Our indoor experience is where guests will find our Himalayan Salt Sauna, indoor hot tub, and indoor relaxation lounge.
Himalayan Salt Sauna
With origins that date back to the medieval era, benefits of Halotherapy (salt therapy) are time-tested, and wide-ranging. Himalayan Salt was selected for our sauna due to its high mineral content and healing properties. The salt that lines the sauna's walls contain 84 elements and trace elements that when heated release negative ions and stimulate the air around you. Inhaling this infused oxygen can reduce inflammation, improve respiratory conditions, provide increased energy and improve overall health and mood.
Indoor Hot Tub
Our Indoor Hot Tub provides a quiet sanctuary for guests who prefer to remain indoors, but still wish to experience the benefits of a heated tub. The combined efforts of raising your body temperature and time spent immersed in the act of bathing can reduce anxiety and stress, improve the quality of your sleep, and eases muscle and joint pain. Repeated sessions can also assist with improved range of motion.
Relaxation Area
In a shared space with our Indoor Hot Tub, the Relaxation area offers numerous lounge chairs, and a conversation set where you can quietly continue your well-being journey. Our Relaxation areas are a great spot to sit and enjoy a book you've been looking forward to reading.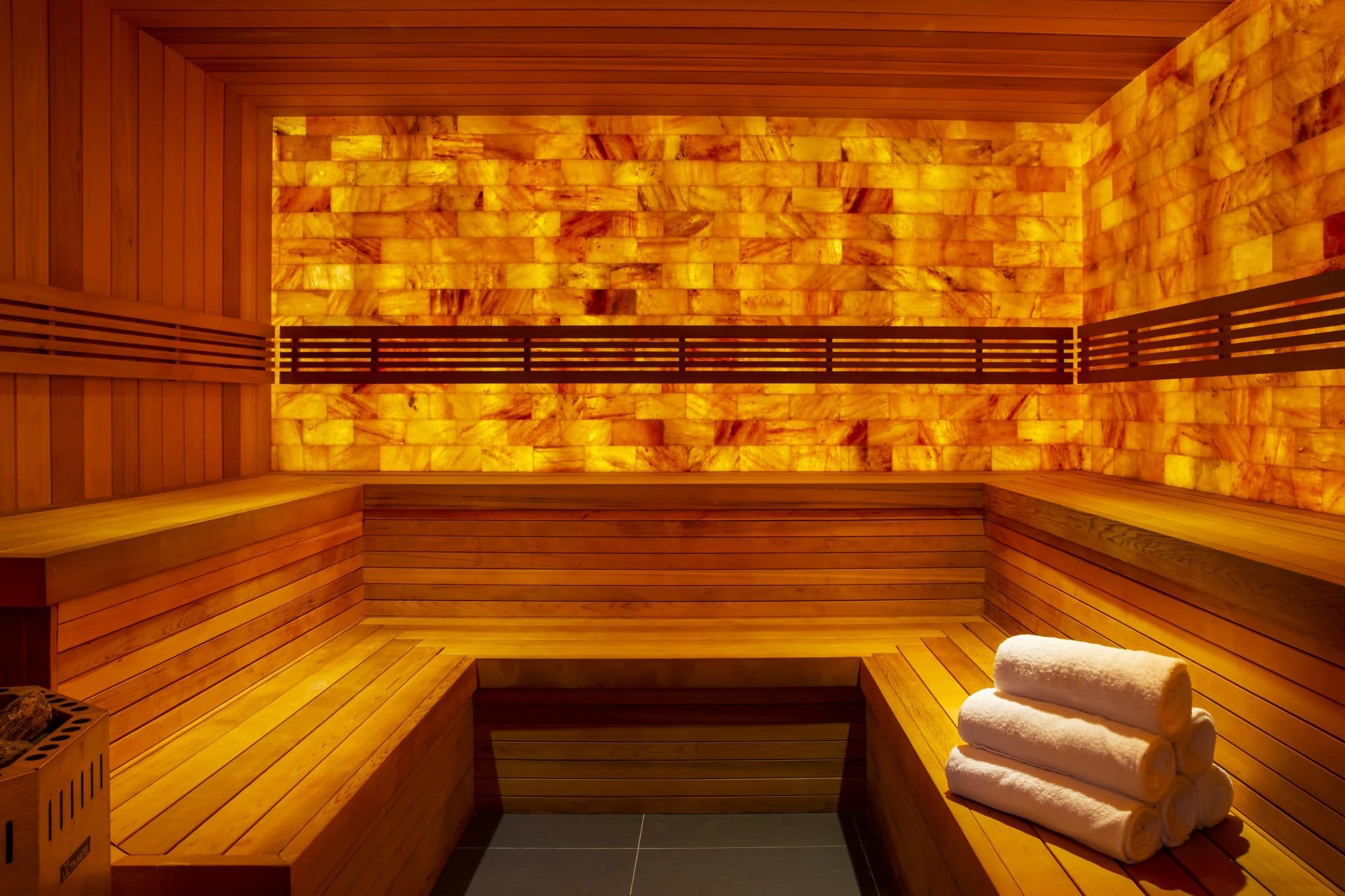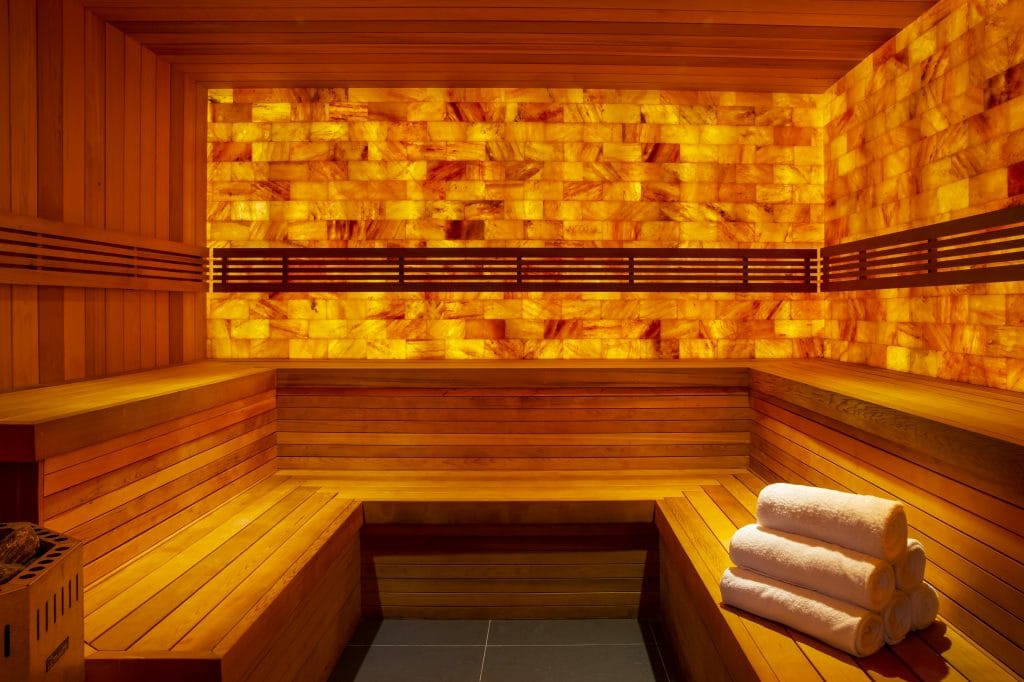 Burning Springs Food & Beverage Menu
Enhance your visit to Burning Springs Spa by ordering refreshments and dining selections from our spa menu. Sip on a delightful cocktail, indulge in a decadent dessert, or choose from our delicious small plates or shareable options.